14 Romantic Movies to Watch for Married Couples | Hard Core Movie Lovers
Looking for romantic movies to watch as a married couple? Here's a curated list of 14 must-see films that will warm your hearts and reignite your love. From timeless classics like "The Notebook" and "Casablanca" to modern favorites such as "La La Land" and "The Fault in Our Stars," these movies offer captivating stories of love, sacrifice, and second chances. With stellar performances from talented actors like Ryan Gosling, Rachel McAdams, and Keira Knightley, these films guarantee an emotional and unforgettable cinematic experience. Whether you're in the mood for enchanting period dramas like "Pride and Prejudice" or heartwarming romantic comedies like "Crazy, Stupid, Love," these trending movies are perfect for date nights and cozy evenings together. Explore the power of true love in films like "Eternal Sunshine of the Spotless Mind" and "Before Sunrise" or immerse yourself in the magical worlds of "Amélie" and "The Age of Adaline." So grab some popcorn, cuddle up with your partner, and let these romantic movies sweep you off your feet. Don't miss out on these captivating tales of love, passion, and lifelong connections. It's time to make your movie night extra special!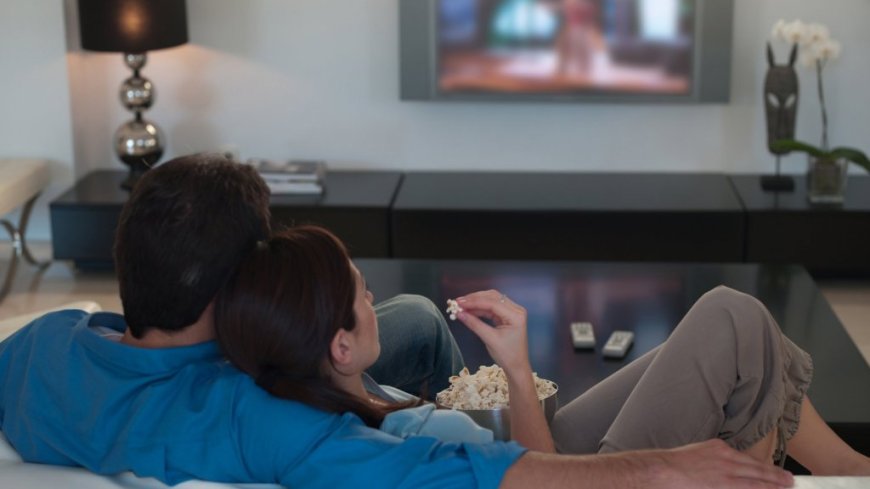 1. The Notebook (2004)
The Notebook is a timeless romantic drama based on the novel by Nicholas Sparks. Set in the 1940s, the story follows Noah and Allie, a young couple who fall deeply in love but are separated by the realities of war and social differences. Their love endures through the years, and their paths cross again in a heartwarming and emotional reunion. Ryan Gosling and Rachel McAdams deliver captivating performances that make this film a must-watch for any married couple seeking a heartfelt love story.
IMDb Rating: 7.8/10
2. Pride and Prejudice (2005)
Pride and Prejudice, directed by Joe Wright, is a stunning adaptation of Jane Austen's beloved novel. The film follows the spirited Elizabeth Bennet as she navigates societal expectations, family dynamics, and the unpredictable nature of love. The chemistry between Keira Knightley and Matthew Macfadyen is undeniable, bringing the iconic characters of Elizabeth Bennet and Mr. Darcy to life in a way that will captivate viewers.
IMDb Rating: 7.8/10
3. La La Land (2016)
La La Land is a modern musical that tells the enchanting story of Mia, an aspiring actress, and Sebastian, a jazz pianist, who meet and fall in love in Los Angeles. As they pursue their dreams, they face the challenges of balancing their careers and relationship. With stunning visuals, memorable songs, and the chemistry between Emma Stone and Ryan Gosling, this film will sweep you off your feet.
IMDb Rating: 8.0/10
4. Casablanca (1942)
Casablanca is a classic romance set during World War II. Humphrey Bogart stars as Rick Blaine, a cynical nightclub owner, and Ingrid Bergman plays Ilsa Lund, his former lover who re-enters his life with her husband, a Czech resistance leader. The film beautifully explores themes of sacrifice, love, and destiny against the backdrop of war-torn Casablanca.
IMDb Rating: 8.5/10
5. Eternal Sunshine of the Spotless Mind (2004)
Eternal Sunshine of the Spotless Mind is a unique and thought-provoking film that explores the complexities of love and memory. Jim Carrey and Kate Winslet deliver remarkable performances as Joel and Clementine, a couple who undergo a procedure to erase each other from their memories. As they relive their relationship through fragmented memories, they discover the power of true connection and the importance of cherishing the moments we have.
IMDb Rating: 8.3/10
6. Before Sunrise (1995)
Before Sunrise is the first installment in Richard Linklater's trilogy, chronicling the romance between Jesse (Ethan Hawke) and Celine (Julie Delpy). The film follows the couple as they meet by chance on a train and spend a magical night together exploring Vienna. Through their deep conversations and genuine connection, they discover the beauty of seizing the present moment and the profound impact love can have in a short span of time.
IMDb Rating: 8.1/10
7. The Fault in Our Stars (2014)
Based on the bestselling novel by John Green, The Fault in Our Stars is a heart-wrenching tale of young love and the power of living in the face of mortality. Hazel (Shailene Woodley) and Gus (Ansel Elgort), two teenagers battling cancer, find solace and romance in each other's company. Their journey is filled with bittersweet moments, laughter, and tears, reminding us to cherish every precious moment we have with our loved ones.
IMDb Rating: 7.7/10
8. Silver Linings Playbook (2012)
Silver Linings Playbook is a touching and offbeat romantic comedy-drama directed by David O. Russell. The film follows Pat (Bradley Cooper), a man with bipolar disorder, who forms an unlikely bond with Tiffany (Jennifer Lawrence), a young woman dealing with her own struggles. As they navigate their personal challenges, their relationship evolves into something beautiful and healing. With outstanding performances and a heartfelt story, this film explores the healing power of love and human connection.
IMDb Rating: 7.7/10
9. Amélie (2001)
Amélie is a whimsical and visually stunning French romantic comedy that tells the story of Amélie Poulain (Audrey Tautou), a shy and imaginative young woman who sets out on a mission to bring happiness to the lives of those around her. Along the way, she discovers love and embarks on her own journey of self-discovery. This charming film captures the magic of everyday life and reminds us of the joy that can be found in small moments.
IMDb Rating: 8.3/10
10. Pride and Prejudice (1995)
This BBC miniseries adaptation of Jane Austen's Pride and Prejudice has become a beloved classic. Starring Colin Firth as Mr. Darcy and Jennifer Ehle as Elizabeth Bennet, the series beautifully captures the wit, charm, and timeless romance of Austen's novel. With its lush cinematography and compelling performances, this six-episode series is a must-watch for any married couple seeking a captivating period drama.
IMDb Rating: 8.8/10
11. Crazy, Stupid, Love (2011)
Crazy, Stupid, Love is a hilarious and heartwarming romantic comedy that explores the ups and downs of love and relationships. The film follows Cal (Steve Carell), whose life unravels when his wife asks him for a divorce. In his quest to move on, he meets Jacob (Ryan Gosling), a suave and charismatic young man who teaches him the art of seduction. As the characters' lives intertwine, the film delves into themes of self-discovery, second chances, and the unpredictable nature of love.
IMDb Rating: 7.4/10
12. The Age of Adaline (2015)
The Age of Adaline is a captivating romantic fantasy film that tells the extraordinary story of Adaline Bowman (Blake Lively), who remains perpetually young after a mysterious accident. Throughout the years, she leads a solitary life, guarding her secret until she meets a charming philanthropist named Ellis (Michiel Huisman) and falls in love. The film explores the complexities of love, mortality, and the beauty of embracing life's fleeting moments.
IMDb Rating: 7.2/10
13. Sense and Sensibility (1995)
Directed by Ang Lee, Sense and Sensibility is a beautifully crafted adaptation of Jane Austen's novel. The film follows the Dashwood sisters, Elinor (Emma Thompson) and Marianne (Kate Winslet), as they navigate love and heartbreak in 19th-century England. With its stunning period setting, stellar performances, and a heartfelt exploration of the contrasting nature of love and passion, Sense and Sensibility is a must-watch for fans of Austen's works.
IMDb Rating: 7.6/10
14. The Holiday (2006)
The Holiday is a delightful romantic comedy that follows two women, Iris (Kate Winslet) and Amanda (Cameron Diaz), who swap homes during the Christmas holiday. In their new surroundings, they unexpectedly find love and embark on transformative journeys. With a stellar ensemble cast and a charming blend of humor and romance, this film offers a heartwarming and feel-good experience that is perfect for cozying up with your loved one.
IMDb Rating: 6.9/10
These 14 romantic movies offer a diverse range of stories, from classic tales to modern love stories, each with its own unique charm. Whether you're in the mood for heartfelt dramas, enchanting period pieces, or lighthearted comedies, these films are sure to captivate and inspire you as a married couple.