How to Set Up a Coffee Shop in Dubai
"Discover the essential steps and insights for launching your dream coffee shop in Dubai. Our comprehensive guide covers everything from location selection and permits to designing the perfect menu and creating an inviting ambiance. Learn the ropes of navigating Dubai's competitive coffee market and turning your passion for coffee into a successful business venture. Get ready to brew success in Dubai's thriving coffee scene with our expert advice."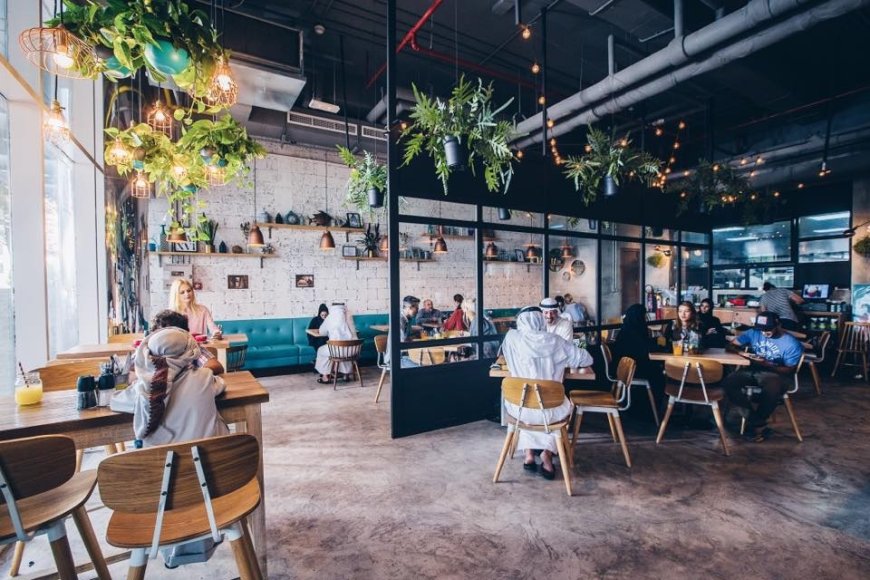 Dubai has solidified its global standing as a premier business hub, achieved through tailored regulations that foster diverse business activities. The government extends its support not only to large corporations but also to small traders. The proliferation of small enterprises, such as coffee shops, attests to Dubai's nurturing environment. Capitalizing on this, many entrepreneurs are venturing into the thriving food and beverage sector by establishing coffee shops in Dubai.
Launching a coffee shop is a prudent and relatively low-risk endeavor, offering a remarkable opportunity to tap into the flourishing F&B industry. The food and beverage sector in Dubai continues to expand, providing a favorable backdrop. Given the competitive landscape within the coffee sector, initiating a coffee shop in Dubai is both convenient and lucrative. Moreover, this business venture is financially viable and accessible. With the right expertise and skills, positive outcomes are attainable. Below, we outline key considerations for embarking on a successful coffee shop venture in Dubai.
The Process of Starting a Coffee Shop in Dubai
1. Select an Ideal Location
Opt for a coffee shop space that aligns with your preferences, budget, and objectives. A strategic location accessible via metro or roads can attract high foot traffic and visibility. Choosing a site near residential and commercial areas can draw a substantial customer base, boosting revenue. Additionally, opt for areas with fewer existing coffee shops to minimize competition.
2. Plan the Optimal Layout
When setting up a coffee shop in Dubai, the layout of your coffee-making equipment takes precedence over the retail style. Even seemingly minor details, like the placement of waste bins for used cups, can significantly impact efficiency. Design plays a pivotal role, ensuring unobstructed movement, efficient workflow, and a seamless ambiance.
3. Develop a Strategic Marketing Strategy
Crafting a robust marketing plan is pivotal for brand exposure and revenue growth. A comprehensive strategy widens your customer reach. Employ online marketing tactics, leverage social media platforms, utilize brochures, distribute flyers, participate in industry events, host in-shop exhibitions, and consider advertising through electronic and print media, aligning with your budget.
4. Choose Your Equipment
In addition to stainless steel countertops for your kitchen stations, an array of essential items is necessary. These encompass cabinets, ice storage units, trolleys, shelves, racks, exhaust systems, piping, sinks, and more. Furnishing your coffee shop in Dubai necessitates specific tools, including espresso machines, coffee brewers, grinders, ice makers, rapid ovens, and decanters, as well as various coffee-related accessories like spoons, cups, syrup pumps, timers, water treatment devices, juicers, blenders, and an assortment of other equipment.
5. Meet All Requirements and Regulations
Before launching, ensure strict adherence to licensing, legal, and financial prerequisites linked to commencing a coffee shop in Dubai. This proactive step mitigates future complications and the risk of business disruptions due to non-compliance. Remember these considerations for a successful Dubai business setup. Additionally, diligently manage cash flows, hire skilled personnel, and conduct thorough market research before initiation.
Advantages of Setup a Coffee Shop in Dubai 
Establishing a coffee shop in Dubai offers a myriad of advantages within a dynamic and thriving business landscape. This strategic move provides entrepreneurs with a platform to harness numerous opportunities and tap into the city's ever-growing food and beverage sector.
1. Thriving Food and Beverage Industry
Dubai's F&B industry is experiencing robust growth, driven by a diverse consumer base and a penchant for culinary experiences. A coffee shop aligns perfectly with the city's cosmopolitan atmosphere, making it a lucrative venture.
2. Global Appeal and Tourism
Dubai attracts visitors from around the world, offering a diverse customer base that craves international flavors and experiences. A well-curated coffee shop can cater to this global audience, fostering loyalty and word-of-mouth promotion.
3. Cultural Diversity
Dubai's population comprises people from various cultures and backgrounds. A coffee shop can serve as a melting pot of flavors, appealing to residents and tourists seeking familiar and unique tastes.
4. Social and Business Hub
Coffee shops serve as popular meeting points for both social and business interactions. Dubai's bustling commercial environment offers ample networking opportunities, making your coffee shop a favored rendezvous.
5. Cosmopolitan Lifestyle
Dubai residents embrace a cosmopolitan lifestyle, valuing quality experiences. A well-designed coffee shop can become a part of their routine, offering a haven for relaxation and socializing.
6. Evolving Consumer Preferences
The coffee culture in Dubai has evolved beyond the basic cup of coffee. Specialty coffee and innovative blends are gaining popularity. By offering unique brews, your coffee shop can cater to these evolving tastes.
7. Accessible Business Setup
Dubai's business-friendly regulations and well-established infrastructure make setting up a coffee shop relatively streamlined. With the right guidance, the process can be efficient and hassle-free.
8. Event Hosting Opportunities
Coffee shops can double as event venues, hosting workshops, book readings, and music nights. These events can attract a diverse crowd, enhancing customer engagement.
9. Brand Visibility
The thriving social media scene in Dubai can work to your advantage. Aesthetic coffee shops often become Instagram-worthy spots, creating organic online exposure for your brand.
10. Potential for Expansion
A successful coffee shop can become a foundation for future growth. Dubai's supportive ecosystem allows you to expand into catering, delivery services, or even multiple outlets.
Documents Required to Get a Coffee Shop License in Dubai
Should you intend to establish a coffee shop in Dubai, there are specific documents you'll require:
Comprehensive Business Plan

Passport Copy of Owner or Shareholder

Owner or Shareholder Visa Copy

Several Preferred Company Name Options for Reservation

Lease Agreement for either Physical Office or Virtual Office Space
How Start Any Business UAE (India Branch) Helps You Setup a Coffee Shop in Dubai
Embarking on the journey of launching a coffee shop in Dubai can seem daunting, especially when navigating the legal intricacies. However, fret not, as Start Any Business UAE (India Branch) is here to provide steadfast support.
Initiating a food business in Dubai entails navigating a series of regulatory requirements. Even for modest ventures, adhering to stringent food safety regulations is imperative. With our proficient team of specialists, you're in capable hands. We possess comprehensive knowledge of the precise actions you need to take, and we're dedicated to guiding you through each phase of the process.