Vanessa Bryant grieves Gianna & Kobe on their 1st death anniversary in moving note: It still doesn't seem real
Attach Main Entertaiment Image:  vanessa-bryant-grieves-gianna-kobe-on-their-1st-death-anniversary.jpg Following the tragic helicopter crash that took the lives of NBA legend Kobe Bryant and his 13-year-old daughter Gianna Bryant, and seven other individuals, Kobe's widow Vanessa Bryant recently paid tribute to Gianna and Kobe in an Instagram post at the one year anniversary of their crash. The post included a heartbreaking note which was written to her by one of her late daughter Gianna's friends.   "Today I received this sweet letter from one of Gianna's best friends, Aubrey. I love you Aubz (as my Gigi would call you). Thank you so much for beautifully sharing some of your memories of my Gigi with me and allowing me to share them here on my ig. My Gigi is INCREDIBLE and I truly appreciate your thoughtful letter. She loves you so much. I miss my baby girl and Kob-Kob so much, too. I will never understand why/how this tragedy could've happened to such beautiful, kind and amazing human beings. It still doesn't seem real. Kob, we did it right. Gigi, you still make mommy proud. I love you! #PlayGigisWay #Mambacita #Mamba #DaddysGirl #GirlDad," Vanessa captioned the note.          View this post on Instagram                       A post shared by Vanessa Bryant (@vanessabryant) If you didn't know, on January 26th, Gianna and Kobe passed away in a helicopter crash along with seven other individuals. The two were on their way to the Mamba Academy for a basketball practice when the helicopter crashed, which is located nearby Thousand Oaks.    Our continued thoughts and prayers are with Kobe and Gianna's family at this incredibly difficult time.   ALSO READ: Vanessa Bryant gets a 'sweet message' from Kobe Bryant inked on her neck to memorialize late husband   EntertainmentTags: Vanessa BryantEntertainment: HollywoodEntertainment Source: Getty Images, Instagram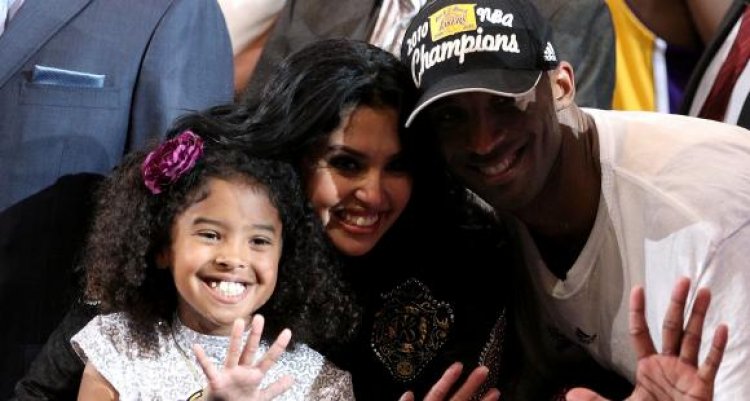 Attach Main Entertaiment Image: 
Following the tragic helicopter crash that took the lives of NBA legend Kobe Bryant and his 13-year-old daughter Gianna Bryant, and seven other individuals, Kobe's widow Vanessa Bryant recently paid tribute to Gianna and Kobe in an Instagram post at the one year anniversary of their crash. The post included a heartbreaking note which was written to her by one of her late daughter Gianna's friends.
"Today I received this sweet letter from one of Gianna's best friends, Aubrey. I love you Aubz (as my Gigi would call you). Thank you so much for beautifully sharing some of your memories of my Gigi with me and allowing me to share them here on my ig. My Gigi is INCREDIBLE and I truly appreciate your thoughtful letter. She loves you so much. I miss my baby girl and Kob-Kob so much, too. I will never understand why/how this tragedy could've happened to such beautiful, kind and amazing human beings. It still doesn't seem real. Kob, we did it right. Gigi, you still make mommy proud. I love you! #PlayGigisWay #Mambacita #Mamba #DaddysGirl #GirlDad," Vanessa captioned the note.
 
If you didn't know, on January 26th, Gianna and Kobe passed away in a helicopter crash along with seven other individuals. The two were on their way to the Mamba Academy for a basketball practice when the helicopter crashed, which is located nearby Thousand Oaks. 
Our continued thoughts and prayers are with Kobe and Gianna's family at this incredibly difficult time.
ALSO READ: Vanessa Bryant gets a 'sweet message' from Kobe Bryant inked on her neck to memorialize late husband