Ten Time Everester || "Snow Leopard" Dies At The Age Of 72
Ang Rita Sherpa also known as Heem Chituwa- a Nepali word that means 'Snow Leopard' was a phenomenal mountain climber. He rock climbed to the Everest without the sufficient supply of oxygen not just once but 10 Times. The records he set were extraordinary.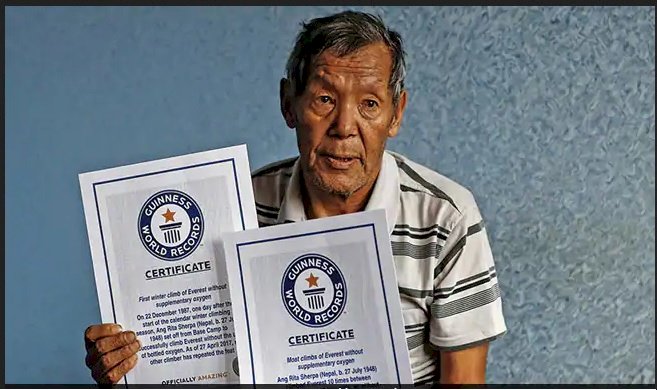 Source: NDTV
Ang Rita Sherpa had won several awards as an exceptional mountaineer. In 1990, when he made his 6th climb of Everest,he set the world record for the scads of successful ascents, eventually in 1996 reaching Ten.
In 2011, He also received the 'Sir Edmund Hillary Mountain Legacy Medal' his heartfelt efforts towards conservation of the fragile Himalayan ecology.
Ang Rita was a Sherpa born in 1948 in a very small village called Yillajung, Nepal. ' Sherpa' is a clan of Himalayan people term meaning Shyar ("east") and Pa ("people") which refers to eastern people of Nepal, known for their excellent skill in mountaineering.
"The legendary climber died at around 10.40 am at his residence in Jorpati" - Mingma Sherpa, Ang rita's neighbor.
"We learnt a lot from you about mountains and daring." - as tweeted by Kanak Mani Dixit, publisher, editor and writer based in Nepal
The demise of Ang Rita. We learnt a lot from you about mountains and daring. https://t.co/3iIT1wwOhh

— Kanak Mani Dixit (@KanakManiDixit) September 21, 2020
हार्दिक श्रद्धान्जली 'हिम चितुवा' – आङरिता !

१० पटक सगरमाथा आरोहण गरेका आङरिता शेर्पाको निधन https://t.co/n2QmTFMB8i via @nepalkhabar

— Purna Basnet (@purnabasnet) September 21, 2020
Ang Rita had won a Guinness World Record certificate for being a Mount Everest climber for the tons of times without using supplementary oxygen.
He was a staff member for a non-profit group- The Mountain Institute, that works on the "challenges faced by remote mountain communities and the fragile environments that surround them". In 1992 he led a team, for the establishment of ' Makalu Barun National Park'- a project that focused on biodiversity management along with the local with community. At the Park, Ang Rita Sherpa was a conservator and natural resource officer.
Ang Rita was a renowned climber, who has also worked on a series of projects along with The Mountain Institute on conservation of the alpine Himalayan zone.