Netflix Original Series "Delhi Crime" Escorts Its Way With Winning The Title Of 'Best Drama Series' At The International Emmy Awards.
Netflix initial web series 'Delhi Crime' became the first program from India to win an Emmy Award at the 48th International Emmy Awards 2020. It has been awarded as the "Best Drama series ". India's win at the 48th International Emmy Awards was born "out of sadness,anger, frustration and ultimately, compassion " says, its creator Richie Mehta.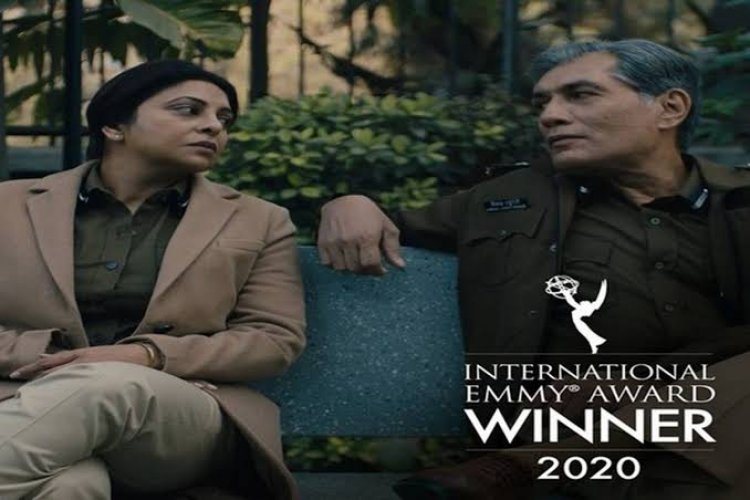 Source : financial express
Richie Mehta directorial Delhi crime, starring Shefali shah, Rasika dugal, Rajesh tailang and Adil Hussain, is a fictionalized crime drama based on the meticulous investigation into the 2012 Delhi Gang rape.
Richie in winning emmy awards said "I dedicate this award to all the women who not just endure the violence that so many men inflict on them, but are then tasked to solve the problem. Finally, to the tireless mother, and her daughter. Not a day goes by when I don't think about you both and what the world subjected you two to. And I hope none of us ever forget that."
Earlier,The Netflix series 'Delhi crime' attained a nomination in the "Best Drama series" in The International Emmy Awards, 2020.
#DelhiCrime wins the #BestDramaSeries award at the #InternationalEmmyAwards 2020@iemmys @RichieMehta @ShefaliShah_ @_AdilHussain @RasikaDugal @rajeshtailang #iemmys #Emmys pic.twitter.com/MNQqZe89uh — Delhi Times (@DelhiTimesTweet) November 23, 2020
OMGGGGGGGGGGGG OMGGGGGGGGGGGG OMGGGGGGGGGGGG#DelhiCrime@_AdilHussain @rajeshtailang @NetflixIndia @KaplanAaron @RasikaDugal @RichieMehta @TulseaTalent @CastingChhabra @GoldenKaravan pic.twitter.com/aNYaBZ0kao — Shefali Shah (@ShefaliShah_) November 23, 2020
The show is emanated from the 2012 , Delhi gangrape and murder, which phrases the objections leading to a amend in the India's Rape Law. It dissects the case of a Physiotherapy-intern who was abducted and gang-raped in a running bus on the night of 16th December 2012, before she was forsaken on a Delhi road. Her injuries were so dreadful that she died in a Singapore hospital a fortnight later.
The series was released in 2019, and it went through huge accolade for its delicate enumeration of a horrific crime that shook the country to its core. 
After Delhi crime bagged the Emmy award Richie says, "I never anticipated getting here — it's the culmination of years of work by hundreds of people, sometimes in total isolation and defiance. Delhi Crime is a complete labour of love, born out of sadness, anger, frustration, and ultimately, compassion. The entire team from start to finish should take a bow for giving their all to this vision,".
The show, though very much rooted in the real incident, was tweaked in small parts. "Three characters in the real story become one in the show. And tiny details like how information on the scene of the crime — the bus — was gathered. Otherwise, the basis of the story, the verdict, is all in the public domain," shared Mehta.
When asked about the rooted reality,Mehta informs that six years ago, he was on another project in Delhi, and met with the former Commissioner of Delhi Police (Neeraj Kumar), who happens to be a family friend. He had seen his works and suggested him to make a film on the case.  He then said Richie to just read the verdict, so that he gets a sense of the whole story. And later, he can introduce him to the officers involved. Richie read the verdict and was shocked by the details. He had a conversation to other Delhi Police officers, and those from the Special Task Force (STF) and asked them questions like whether they had talked to the suspect when they brought him back from Rajasthan. Richie says, "Those nuggets just caught on to me and the way Delhi Police functions, not just as cops, but as human beings."
For Mehta, it arised from the need to tell the stories behind the uniform. "They (Delhi Police) are like psychologists. They gather vast data and information daily. They are talking to criminals and suspects, and are often stuck in traffic with them. The lives they lead, that narrative was important to me. Like the lady cop on whom we based Vimla's character… she was very concerned about her daughter going abroad and not coming back, which I then used for Vartika's story. She is a sub-inspector, super tough, but the incident worried her. Rajesh Tailang's character was based on this officer of the STF. I asked him what was he doing earlier that day, and he said, 'Trying to find a match for my daughter, but when they found out I was Delhi Police, they called it off, as I was not an IPS.' I had to incorporate these details," he said.
Richie also added , "We tend to become jaded when we hear of such incidents. But this case shattered all precedents. As a man, I couldn't perhaps relate to it, but thought if a loved one is subjected to this, what would you do? And if you witness it as a stranger, do you intervene, and at what cost? That became my internal conflict, until I met these people who solved the crime. And, I really believe the crime was solved only because of DCP South's response to it as a woman, as a person," said Mehta.
Shefali Shah, who played the lead role of Vartika Chaturvedi in Delhi Crime, couldn't control her excitement over the big win. She told indianexpress.com, "I am screaming, beaming and jumping! I have goosebumps."
All the actors of this series took the superb exciting news to Twitter to share their exhilaration and we too congratulate the entire team of 'Delhi Crime' for their outstanding and brilliantly executed team work.