Twitter users say the advertisement has a connection to PM Modi, making the hashtag "Boycott Cadbury" popular.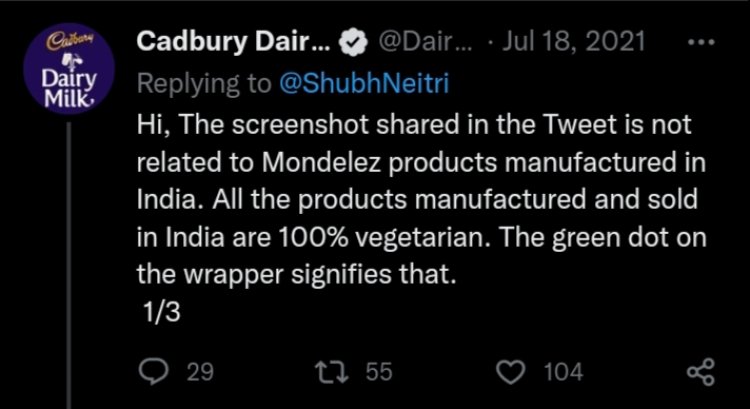 Cadbury previously stated that each one of its products in India is completely vegetarian when a boycott request was made.
On Sunday, the hashtag "boycott Cadbury" began to trend on Twitter as fans aimed at the company's most recent Diwali commercial in addition to the customary false accusations that "beef" was included in Cadbury products. Sadhvi Prachi, a VHP representative, shared the Cadbury advertising and expressed her displeasure with the usage of "Damodar" as the name of a struggling lamp vendor, stating that it was done to "put someone with PM Narendra Modi's father's name in a terrible light." Sadhvi Prachi tweeted, "Chaiwale ke baap diya wala," as many others began to demand a boycott of Cadbury products in India.
This is not the only occasion Indian Twitter users have criticized Cadbury. Similar calls for a boycott were made in 2021, which led the business to clarify that all of its goods in India are 100% vegetarian and that the green dot on the wrapper signifies this in a statement.
Twitter users who started the "Boycott Cadbury" craze posted a screenshot of the Australian Cadbury website's product description page. It read, "Please note that the gelatine we use is halal approved and originates from beef if any of our Australian goods contain gelatine in the ingredients."
What's true about the beef claim?
The image that has gone viral claims that the beef in Cadbury products is not Indian. When the same charges were leveled against Cadbury in the past, Mondelez India, which makes Cadbury Daily Milk, insisted that all of its Indian products are vegetarian.