Tips for Staying Safe While Kayaking
While kayaking is an enjoyable sport, it can also be dangerous. Be sure that you are prepared and practice safe kayaking.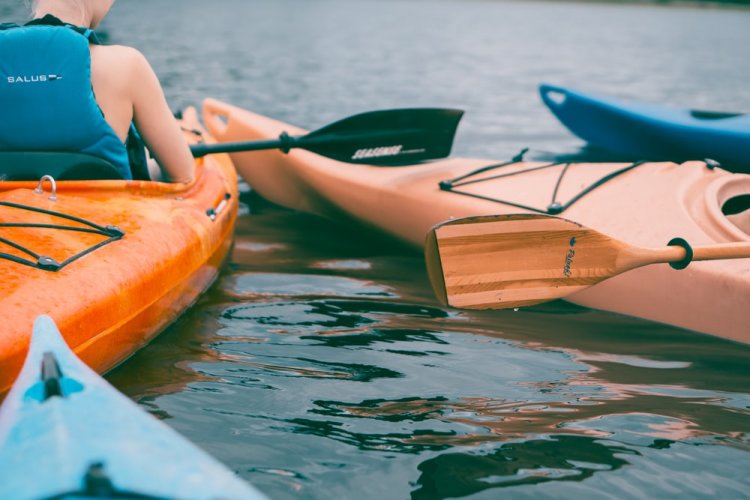 Source: www.Unsplash.com
While kayaking is an enjoyable sport, it can also be dangerous. Be sure that you are prepared and practice safe kayaking.
Kayak Plan
First and foremost file a float plan. Many paddlers enjoy solitude when kayaking or canoeing, but its important that paddlers let someone know where they will be paddling and approximately when they will return. Additionally they must adhere to their float plan. In the event that something tragic were to occur a float plan gives rescuers a starting point.
Prepare to Kayak
Kayakers should prepare for a day in the sun or rain. Coastal Regulations dictate that paddlers must have at least the basic safety equipment for a day's paddling. In a kayak under 6 meters in length you should have basic equipment for a day's paddle on a soft adventure. This equipment should includes: a life jacket (PFD), a sprayskirt, a pump or bailer, sponge, paddle, a whistle, a paddle float, a spare paddle, and a buoyant heaving line. Additionally kayakers should include a small first aid kit with a foil survival packet, waterproof matches, a kayak repair kit, toilet paper, extra warm clothes and duct tape. Lightweight Rain gear or paddling jacket is also a good idea. Paddlers are also encouraged to bring paddling gloves to prevent blistering, quick-drying shorts, sunscreen, and sunglasses. Paddlers may also want to bring flares, and a weather or marine radio.
Be sure to bring a cap or hat to provide protection from the sun. Paddlers should have waterproof boots or good sandals. If the temperature are cooler warm close toe shoes are recommended. During the cool part of the year, long underwear and a warm change of clothes are advised.
Kayakers should also bring an appropriate amount of fresh drinking water. Take at least one liter of water for a day's kayaking and a be sure to bring a snack. Using a camel pack will make the water accessible while paddling. It is very easy to get dehydrated, up to three liters of water is recommended for warm days.
Select a personal flotation device designed specifically for paddling and comfort. Make sure the device is comfortable in whatever activities you hope to do, paddling, racing or fishing. While comfort is important it should not be at the expense of adequate floatation.
Utilize hatches and dry bags or boxes for organizing and stowing gear inside the boat. Minimize the amount of deck cargo. Deck cargo interferes with wind, and makes a capsized kayak more difficult to right. Be sure to use dry bags, boxes and packs for above deck storage with kayaks that do not afford internal access.
Learn the Basics
First If you are new to kayaking, take it slow. For your first few outings, go with an experienced and knowledgeable kayaker who can teach you the basics of paddling. The instructor might be a friend, adventure guide or kayaking instructor. One of the more important things to learn is a rescue or wet-entering. Before venturing out on your own you should really be comfortable with the kayak, be aware of your limitations in various conditions.
Inspect Kayak
Before starting a paddling trip be sure to properly inspect all of the equipment. Inspect the spring that holds the paddles together. Check the foot braces or sliders for wear. Inspect the rudder or skeg control, if necessary apply WD-40 as a lubricant. Make sure your seat, foot braces, and rudder assembly are all in good shape prior to paddling. Inspect any components that could break and replace anything that is beginning to wear too much.
Check the kayak seat, some are uncomfortable. In order to increase comfort you can add thin foam to the seat and try adjusting the seat back. Be aware that by raising the seat one-inch with a cushion, the stability of the kayak might be compromised. Make sure neoprene hatch covers are in good shape. Never paddle a boat without watertight hatch covers unless your boat has tapered buoyancy air bags.
Check the Weather
Prior to taking a kayak trip, be sure to check the weather conditions. In addition to the weather be aware of the wind direction and tide tables. If tide and wind are traveling the same direction, water conditions are often somewhat calm. When the wind is traveling against the tidal current, waves will be created and make kayaking more difficult especially for beginners.
Navigation
All kayakers should carry navigational tools. A compass, charts for the area protected in a waterproof bag, tide tables and a handheld GPS unit will make navigation significantly easier.
Transportation
Be sure that you do not drag your boat on the beach. When the kayak is out of the water do not sit on the hatches or decks. Fully loaded kayaks should not be carried by the handles, they should also be supported by a hand under the keel to reduce the stress on the carrying handles.
When transporting the kayak on top of a car, tie the kayak tight across the width, but allow bow and stern tie downs to be slightly loose. Be careful that the kayak does not fill with rain when being transported.
Kayak Storage
Store your kayak resting on fitted padded rests. Your kayak can lose its shape if left sitting on a flat or rugged surface. Preferably the rests should be placed close to the bulkheads. Keep in mind that salt corrodes metal fittings so be sure to rinse the kayak with a hose after ocean use. UV rays destroys plastic and fiberglass so be sure to keep your kayak out of the sun during storage.