The Unlicensed Home
Anbu Jyoti Ashram in Tamilnadu runs without licence and forcefully took beggars, mentally and physically challenge people into the Ashram, and torture them , raped them and treat them severely .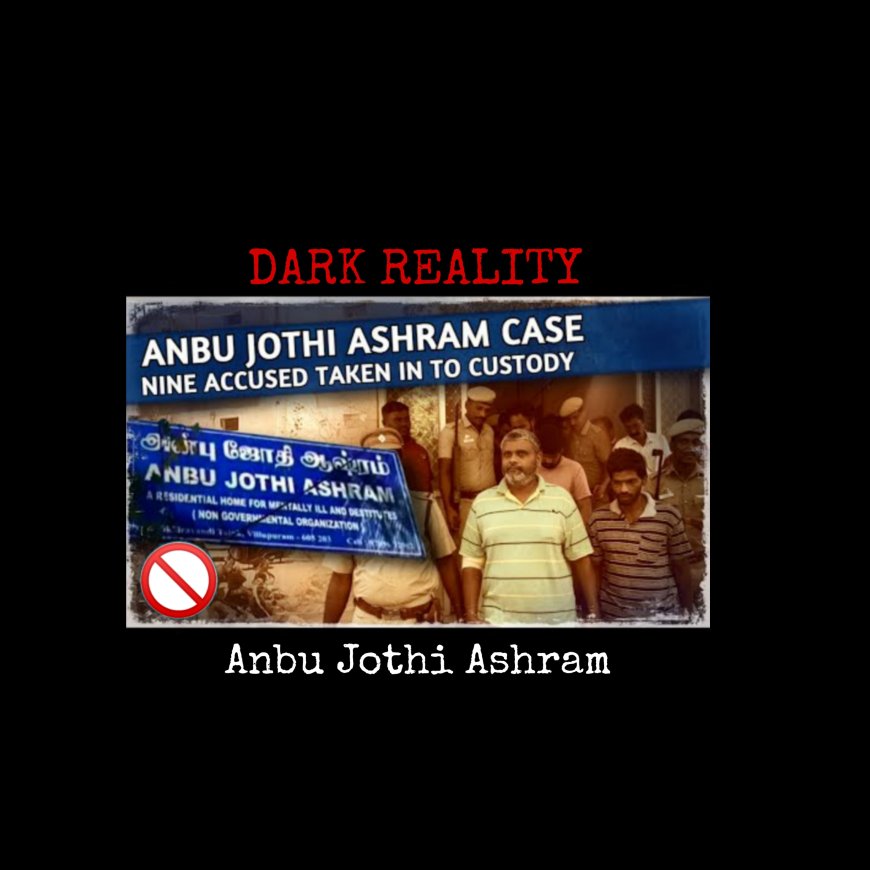 Anbu Jothi Ashram , situated in Villupuram, Tamil Nadu , is a non-profit organisation that helps beggars , mentally and physically challenge and destitute people. But, is it true ? Does it have licensed? If yes , then why it shutdown ?
ANSWER TO THE QUESTIONS 
Anbu Jothi Ashram was shut down recently after government authorities raided the organisation, after getting reports of torture , rape and human trafficking.
9 persons were arrested on the charges of mentioned crimes including owner Jubin Baby and his wife Maria.
CID has rescued 166 residents, 44 women , and admitted them to local hospital.
CASES
Some official reports have said that after treating them for few months the Ashram would send them to other branches such as Home of Hope in Bengaluru, Apna Ghar Ashram in Rajasthan , St Joseph Hospice in Tamil Nadu.
Among them 15 residence were sent to Home of Hope, allegations were made for the transfers was that they try to escape by breaking the windowpanes of a bathroom. But there are no whereabouts of them . 
Mr. Krishnamurthy, general council member of Congress, said that is his younger brother G. Jayakumar was also first admitted into the Ashram and he was transferred to another branch without being informed. And his brother is missing. On February 24, he learned that his brother has died last November and his body is already disposed. But why he didn't get any information about that?
The Congress leader is demanding a probe into the suspicious death of his brother, saying that five more people were shifted to Ashram along his brother.
CHARGES
The police booked Jubin Baby, his wife Maria and others on the charges of rape after two women gave statements that they were raped by Jubin.One victim has given the written complaint.
An official who raided the ashram, said that the ashram lacked even basic facilities for its residents. Instead of Curing and nurturing they were abused , raped, beaten and badly treated.
ABDUCTION OF PEOPLE
Biju Mohon , a member of ashram , said that he used to abduct people loitering on the streets, begging and bring them to ashram. Then inmates were subjected to tonsuring, and taken to other ashrams .
He further said that his master Jubin used to threaten victims by letting loose monkeys on them to instil fear in them and raped two victims at ashram.
Even restricted drugs were given to them without prescription.
CONCLUSION
There are no exact data of how many number of inmates or victims have been admitted, transfer or discharged since 2005.
Even the place officials knew that the Ashram is running without a licence, the district authorities took no steps to shut it down.
In fact , the officials themselves handed the beggars, destitute persons and wondering mentally ill people to the custody of the Ashram.
THE QUESTIONS ARISE
How Anbu Jyoti Ashram had been functioning without a licence for 16 years?
Why no action was taken when a person went to police station complaining that his one relative who was admitted into the Ashram went missing?
How could the Ashram staff go around in the city and forcing beggars, destitute people and mentally ill people in ambulance in public view and take them to the Ashram?
Who authorised the crimation of the inmates or victims over the years without the deaths being recorded?
The answers to this questions may emerged from the CID investigation.
One Halideen, filed a habeas corpus in Madras High court who sought legal assistance to trace Zafirullah, a 70 years old , who went missing after admitting to the Anbu Jothi Ashram.
If Zafirullah remains untraceable, it would probably mean that the ocean is deep.
Refrence,
The Hindu, the News minute