Congress's Bharat Jodo Yatra: a 3750km multi-state Padayatra
A Sanjivani to reboot the congress party's hold back in the country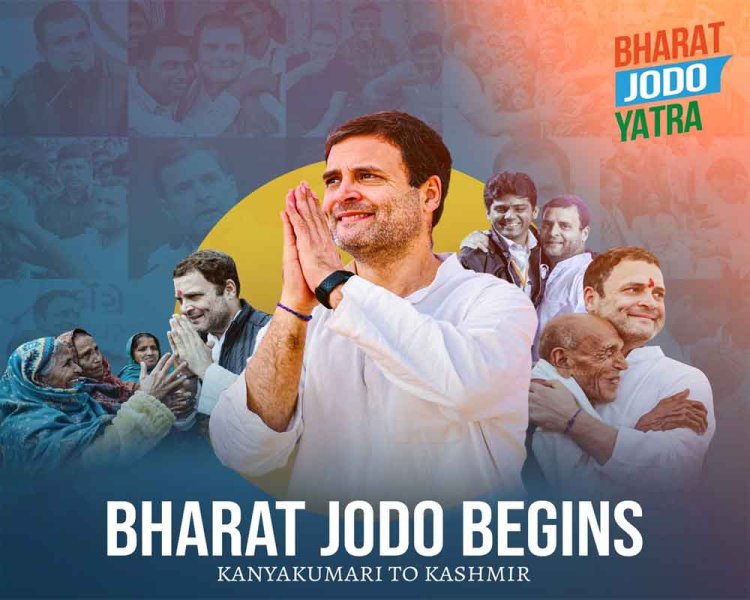 For the past few days, the Congress party is in the headlines because of the padayatra of 3750kms in the different states of India. This padayatra is called
" Bharat-Jodo Yatra". This has made a huge noise in political areas.
Some leaders are addressing this yatra as an initiative to 'refresh and renew' the political status of the party in a new changing avatar.
Some are also calling it a 'Sanjivani' to reboot the Congress party's hold back in the country.
About the Yatra
Ø Aim: To unite the country, a long on-foot march in different states of India


Ø Started on September 7 and will be continued for 150 days


Ø Location: Started from Kanyakumari and will end at Kashmir covering 12 states


Ø Total Distance: 3750 km
Ø How: The yatra will be taken into two batches – from 7.30 am-10.30 am and 3.30-6.30 pm and each day participants will cover 22-23km.
Ø Participants: Former Party Chief Rahul Gandhi along with 230 Congress 'Padayatris'
Places to be Covered:


· On 11 September, Padayatris will reach Kerala and they will transverse in the state for the next 19 days.
· On October 1, the march will reach Karnataka and will be there for 21 days.
· The march will move towards North via Thiruvananthapuram, Kochi, Nilambur, Mysore, Bellary, Raichur, Vikarabad, Nanded, Jalgaon, Indore, Kota, Dausa, Alwar, Bulandshahar, Delhi, Ambala, Pathankot, Jammu and will end at Srinagar.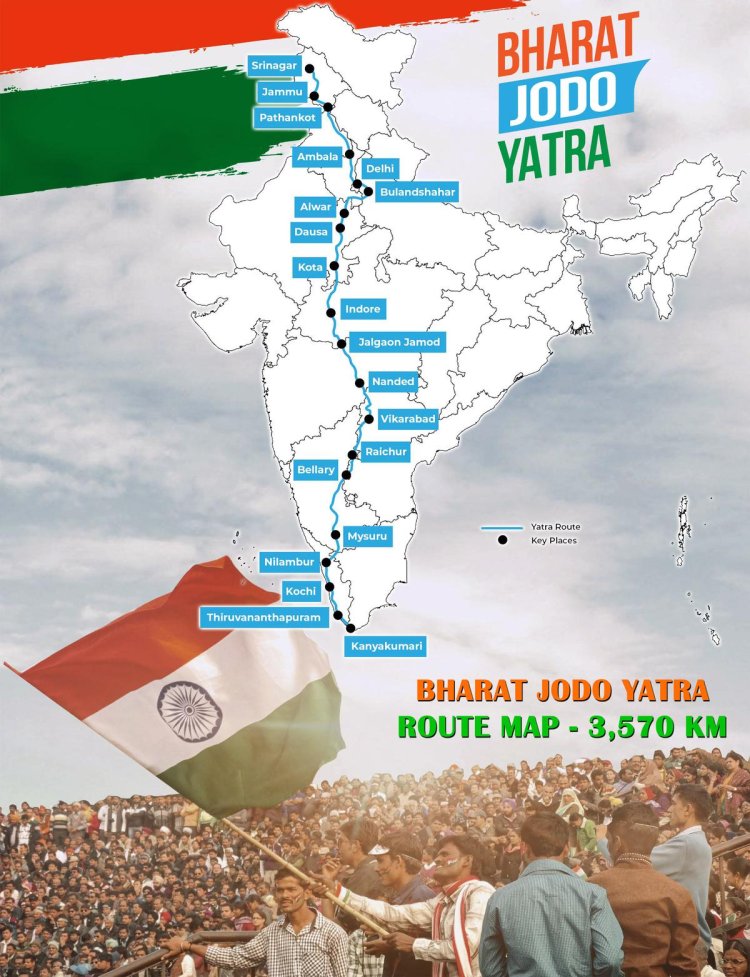 Source: Google
This Yatra initiative is being called a massive 'turning point in political history as many of such yantras have been proven to be very effective to reach out to great masses and for strong political campaigns.
The opposing party BJP is calling it " Save Gandhi Family Andolan".
Yatras in Independent India


v 1983: To challenge Indira Gandhi, Janata Party President Chandra Shekhar takes out all- India padayatra from Kanyakumari.


v 1985: PM Rajiv Gandhi announces "Congress Sandesh Yatra" to carry across the country to entrust the All India Congress Seva Dal.


v 1990: Rajiv Gandhi travels in 2nd class coaches of trains to take out 'Bharat Yatra'.


v 2003: Across Andhra Pradesh, Congress leader YS Rajshekhara Reddy goes on a Padyatra.


v 2017: Congress leader Digvijay Singh takes out Narmada parikrama ahead of Madhya Pradesh, a 3300 km long padayatra.


v 2018: YS Reddy's son Jagan follows his path and travelled a mega padayatra on foot across the state.