What Is Pride Month? Celebrating LGBTQIA+ Identities
All persons must be accepted wholeheartedly for what they are! Pride Month is the time to celebrate diversity with lots of joy and glitter. Let's get involved in the parades, concerts going on across the globe!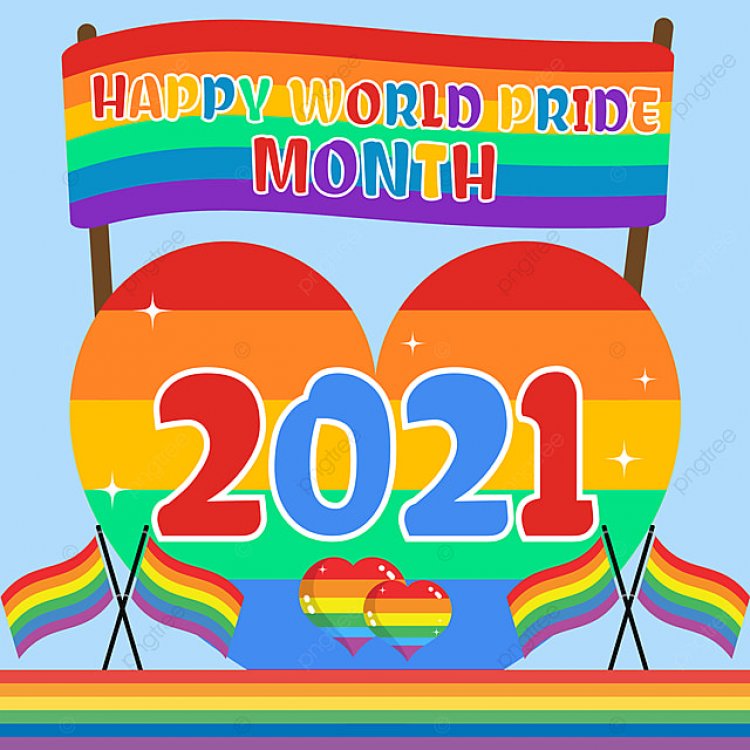 Source: pngtree,com
"Had I not created my whole world, I would certainly have died in other people's".
― Anaïs Nin
All human beings need to create their own worlds and it is the moral and ethical responsibility of all other fellow beings to respect the world created by them.
These lines might have ignited courage in the souls of the LGBTQIA+  community who worked tirelessly right from the 1960s for their voices to be heard and proper institutional mechanisms to be devised for them to protect their rights. They fought with all zeal to attain a position of respect and equality in society. 
 History has been very harsh towards few communities and LGBTQIA+ has been the worst sufferers, they have been continuously discriminated against and ostracised in society. there are certainly very few heads and hearts to hear and understand them. They have been ill-treated for being what they are. They are deprived of opportunities and basic amenities. Not only society, but their families too ostracize them.  Their identity is continuously stigmatized and derided.  Hence, they had to suffer tremendously even for basic needs like a gender-neutral toilet or separate check-in lines. Beyond this the mental trauma they undergo is unspeakable.
It is the need of the hour to stand with our fellow humans and speak out loud for their rights so that they get what they deserve, and to rejuvenate, that all human beings must be accepted for what they are, here comes Pride Month which is celebrated in June. The entire month is marked by events, advocating the rights of the LGBTQIA+community and express pride in their existence.
Everyone is unique in their own way and there is no harm in appearing what one actually is! The LGBTQIA+ community is represented by a rainbow flag as many of them believe, this is the natural flag from the sky. Here is the short history of the movement's evolution:
By the 1960s, the hippie counterculture was bubbling in the US and there was already popular anguish against the government's handling of the Vietnam war. At the same time, the stonewall inn, the only haven for gay, was raided by police, and many patrons were manhandled. The raid ignited the frustration of the LGBTQIA+ community and the situation turned aggressive. The protest and activism by the community continued for several days. The Stonewall event holds an important place in the evolution of the history of LGBTQIA+ rights. Since the event unfolded on June 28, 1969, in Newyork, June month is celebrated as Pride month.   
The official declaration of the gay pride month was done in 1999 by President Bill Clinton.  Thereafter successive presidents like Obama, Trump, Biden have also celebrated the event with enthusiasm. The New York parade which was held in 2019 is one of the largest and well-known parades in which about 2 million people participated.
Many countries organize events to create awareness and celebrate LGBTQIA+ identities. for example, Russia celebrates May as their Pride month because in this very month way back in 1993 homosexuality was decriminalized in Russia.
As a society, we have moved quite further in understanding and respecting this community. India has continuously worked very hard to bring them to the mainstream through historic legislation like the transgender persons (protection of Rights)Act, decriminalizing homosexuality, banning conversion therapy, etc. but there is a need for society as a whole to take decisive and meaningful action to end this vicious practice of prejudice, discrimination, and ostracization.