2100 Kg bell for Ram Mandir Crafted By A Muslim Craftsman, IQBAL, In Jalesar In ETAH District
Temple Bell Six Feet in Height and Five Feet in width weighing 2100kg crafted for Ram Mandir in Ayodhya. The bell-ringing Sound can be heard at a distance of 15-20 km with a speed velocity of 330 meters per second.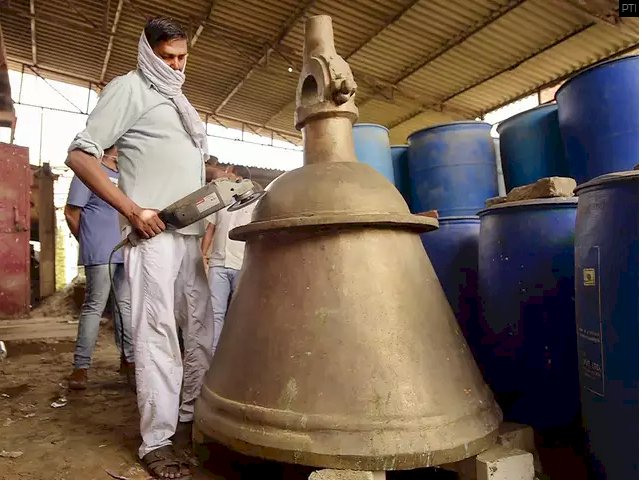 2100kg Bell made of Ashtadhatu.
The bell is not just brass but made of "ashtadhatu", a combination of eight metals -- gold, silver, copper, zinc, lead, tin, iron and mercury. What's unique about it is that it does not have multiple pieces welded together rather it is just made from one piece. This is one of the largest bells in India.
A huge bell weighing 2100 kg will be played at the Ram Temple in Ayodhya. It will be 6 feet long and 5 feet wide and its sound will be heard from 15 to 20 kilometers.

????JAI SHREE RAM???? pic.twitter.com/pHICNA9a1Z — Dul Hazarika (@DulHazarika8) June 7, 2020
Dau Dayal aged 50, was primarily responsible for making the 'ashtadhatu' bell, Iqbal Mistri aged 56, was in charge of the designing, grinding, and polishing work. A team of around 25 workers, worked for a month for eight hours a day.
https://t.co/brazXtaVGY

2100 Kg bell designed by a Muslim Craftsman for Ram Mandir... not sure on whose face but it definitely is a SLAP on a face. — Ustad Bella Ciao ji Maharaj (@SahirNomaan) August 9, 2020
Vikas Mittal, the owner of the workshop and Chairman of Jalesar municipal council in Etah District, says to donate the bell to the Ram Mandir. The bell costs them Rs. 21 lakh. The Mittals got the order to prepare the bell from the Nirmohi Akhara -- one of the litigants in the Ayodhya title dispute -- immediately after the matter was decided last November by the apex court, paving the way for the construction of the temple.
Temple Bell Six Feet In Height, 5 Feet In Width Weighing 2100 Kg Crafted For Ram Mandir In Ayodhya https://t.co/ueckv0Qr00 — Swarajya (@SwarajyaMag) November 13, 2019
Ayodhya Ram Temple Bell Six Feet In Height, 5 Feet In Width Weighing 2100 Kg Crafted For Ram Mandir In Ayodhya.
Photo Credits: IANS pic.twitter.com/EreCHUt2QB — sanatanpath (@sanatanpath) November 13, 2019