Why is Assam flooded most of the time?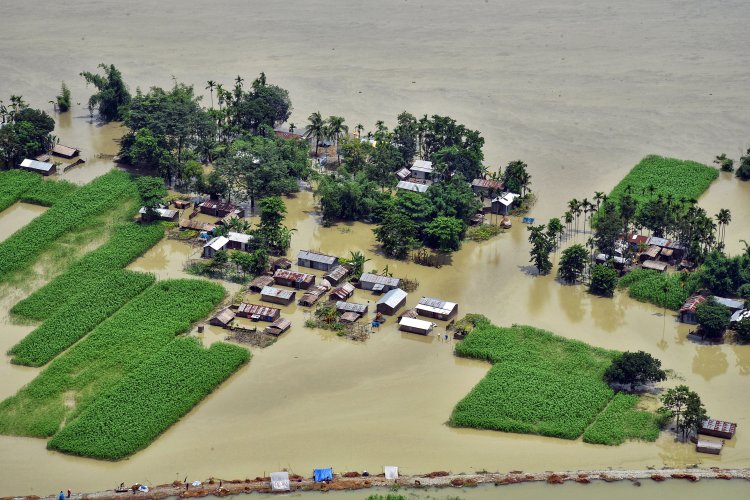 The year 2020 has been a very challenging year for everyone. Every day some sad news is being heard.
One of them is the news of the Assam flood.
This year, the Assam flood has taken the lives of so several innocent people, and almost 150 wild animals slept to death. This phenomenon is not for the first time, and it is not surprising for the people living there. It happens every year in Assam, and people have to go through this fear and pain every year.
Have you ever wondered why this happens in Assam every year?
Every year hundreds of people lose their lives, crores of people become homeless and displaced, villages, crops get ruined, and all this is due to the geographical region of Assam.
Not one, but several reasons are responsible for Assam floods every year.
Assam is a flood-prone state because of its vast network of rivers. Assam is a state in the northeast of India, and it covers a total of area 78,438 km2 (30,285 sq mi). Assam is situated in the south of eastern Himalayas along with the Brahmaputra and Barak river.
Brahmaputra river has an extensive river system of multiple channels and water bodies, crisscrossing the entire Assam.
The Himalayan glacier melts during summer and comes downstream with high intensity. It adds a considerable volume of water and raises the water level of the Brahmaputra river.
The impact of climate change is also responsible, right after summer season, monsoon hits Assam and continuous heavy rainfall makes the situation worse. These lead to flooding every year in Assam.
More than 50 numbers of tributaries are there to feed the river Brahmaputra and Barak. That's why the Assam Floods take such a dangerous form.
The Brahmaputra river in Assam is both a boon and a curse.
It is not fair to blame only nature, some mistakes are made by human beings also, due to which such situations have to be faced. For example, deforestation, the cutting of hills, encroachments, lack of drainage, and weak embankments make the situation worse.
Failed embankments
The government has built about a network of 5000 km embankments along the Brahmaputra and its tributaries to avoid any kind of life loss.
But many of these embankments are of no use because they were built more than a couple of decades ago.
Embankments required timely and proper maintenance to remain long-lasting, but there is no maintenance given to them. Most of the dams' lifetime has gotten over.
As a result, the embankments that had to save the lives of people from floods, those embankments are worsening the problems of the people.
Solutions to overcome the destruction
By looking at the present situation, it can be presumed that the intensity of the flood in Assam will be even more intense in the coming years.
It's impossible to reduce or stop the flow of the Brahmaputra river, but we can minimize the destruction caused by the flood.
Better flood forecasting
It is essential to provide accurate information about flood forecasts in the affected region timely. It can save numerous lives.
Proper embankments and their maintenance
Necessary embankments should be repaired instead of repairing all. Create more space for the river water, let it flow, don't restrict it.
The government always takes some necessary measures beforehand to lessen the effect of floods in the state, like setting up relief camps, providing immediate treatment to the profoundly injured, free distribution of food, medicines, and clothes, compensation for the damaged property, and many more measures are taken by the government.
Some geographical, environmental, and some human-made issues are responsible for floods in Assam every year.
This year, the situation gets exceptionally worse because a few months back, Assam had to face the super cyclone Amphan cyclone. In May, heavy rainfall occurred due to the Amphan cyclone. Thus the water level of the river Brahmaputra and other rivers already rose.
NGO's extended the helping hand
In the time of crisis, several NGOs are working and extending their helping hands towards the Assam flood survivors. NGO's are endeavoring so hard to deal with this situation.
Here are some efficient NGO's and their websites. If you or any of your relatives ever get caught in such a situation, you can go through their websites or helpline numbers and ask for help.
Helpline no. 011-26972351, 41401216
Official website: https://goonj.org/
Habitat for Humanity India
Official website: https://habitatindia.org/contact/
Official website: https://www.rapidresponse.org.in/
Official website: https://www.actionaidindia.org/