Farmer's Bill Passed: Showed the real aggressive  face of "The MPs"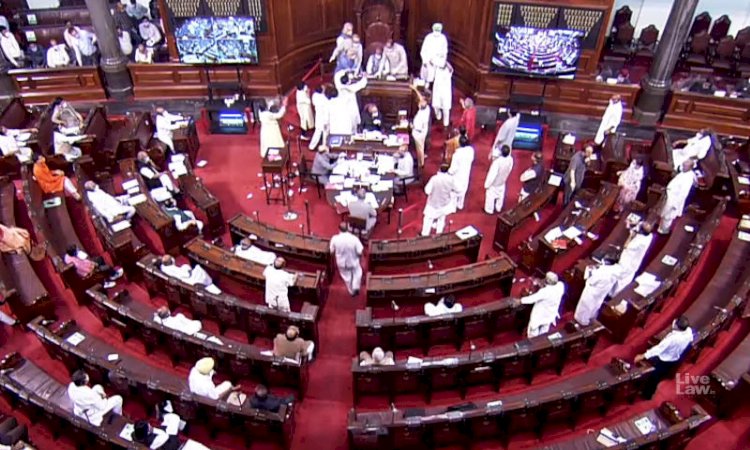 source-live law
The representative of people respected MP's has shown their real personality three days before in the parliament monsoon session.
On Sept 23rd, 2020 Farmers' bill has been introduced by Minister Narendra Singh Tomars :-
"Farmers' Produce Trade and Commerce (Promotion and Facilitation) Bill, 2020" and
"The Farmers (Empowerment and Protection) Agreement of Price Assurance" and
"Farm Services Bill" 2020
On Sunday monsoon session of Parliament which is the seventh day of this session after introducing these bills, the opposition started reacting in a very disturbing manner. It doesn't suit the authorities and the members of Parliament to behave in such undisciplined manner during the session.
The session of seventh day goes as:-
During the voting time of the bill, opposition Mp's has raised their voice on high peak
Trinamool MP "Derek O'Brien" tried to break the mike of Deputy Chairman Harivansh and tore the rule book.
Congress MP Ripun Bora, Sanjay Singh MP of AAP and DMK MP Tiruchi Siva also tried to break the mike of the Deputy Chairman.
Situation went worse and they called Marshalls to control the panickness.
Parliament has been adjourned for 15 minutes and again the voting has been continued and the bill passed.
Opposition keep raising their demands against the bill and they keep arguing for the passed bill after closing of the parliament session on Sunday. Due to the unpleasant condition, the sanitization of Parliament was delayed and Loksabha proceedings were cancelled.
RAHUL GANDHI TWEET against farmers biill
जो किसान धरती से सोना उगाता है,
मोदी सरकार का घमंड उसे ख़ून के आँसू रुलाता है।

राज्यसभा में आज जिस तरह कृषि विधेयक के रूप में सरकार ने किसानों के ख़िलाफ़ मौत का फ़रमान निकाला, उससे लोकतंत्र शर्मिंदा है।

— Rahul Gandhi (@RahulGandhi) September 20, 2020
PMO's TWEET on defending farmers bill
Our agriculture sector is in desperate need of latest technology that assists the industrious farmers. Now, with the passage of the bills, our farmers will have easier access to futuristic technology that will boost production and yield better results. This is a welcome step.

— Narendra Modi (@narendramodi) September 20, 2020
I said it earlier and I say it once again:

System of MSP will remain.

Government procurement will continue.

We are here to serve our farmers. We will do everything possible to support them and ensure a better life for their coming generations.

— Narendra Modi (@narendramodi) September 20, 2020
After the session, Vice President M. Venkaiah Naidu has called a meeting regarding the undisciplined behaviour of Mps with Deputy Chairman Harivansh, Cabinet Minister Piyush Goyal and Pralhad Joshi, Parliamentary affairs.
On Monday, 8 MP's Derek O'Brien, Dola Sen (Trinamool Congress), and Rajeev Satav, Naseer Hussain, Ripun Bora (Congress MPs) and K.K Ragesh and Elamaram Kareem (CPI(M)) were suspended for the rest of the Parliament Monsoon Session
Aggression has never a good face and it was totally unexpected from the People representatives.