IndiGo Crew Set Up A Hospital In Minutes As A Woman Flying To Bangalore Delivers Baby Mid-Air
During the pandemic, we have come across several heroic incidents about people going beyond duty and helping others. For instance, a Mizoram MLA helped a pregnant woman deliver her baby and saved her life and how neighbours helped deliver a woman's baby with her gynaecologist on a video call.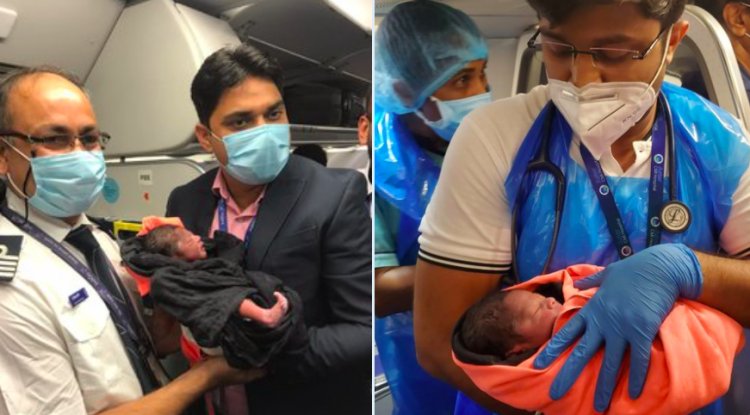 As per reports, a pregnant woman travelling from Delhi to Bengaluru on am IndiGo flight gave birth to a baby boy on Wednesday evening. Flight's operations were normal during delivery. The mother and child are reportedly healthy.
Baby boy born in flight on Delhi-Bangalore @IndiGo6E flight at 6:10pm.

So proud of #Indigo
???????????????????? pic.twitter.com/KqBuX84lBN — Gp Capt Christopher (Retd) (@bcchristopher) October 7, 2020
In response to the to a query from PTI, IndiGo stated " We confirm that a baby boy was prematurely delivered on flight 6E 122 from Delhi to Bengaluru. There are no further details available." ( report: NDTV)
In addition to this, they later stated " We just got information that a baby boy was born in our flight en route 6E 122 Delhi – BLR. Flight landing at 19:40. All operations normal. Mother and child health. Congratulations to all. Kudos to your team first aid."
Some pics I got : pic.twitter.com/5o7bEksH1S — Tarun Shukla (@shukla_tarun) October 7, 2020
The woman was not yet 32 weeks into her pregnancy, due to which she was granted to travel by flight. But she went into premature labour on board. Luckily, a senior gynaecologist named Dr Shailaja Vallabhani was present on the same flight and helped her. The flight's crew also managed to set up a hospital and required medication within minutes. Displaying exemplary teamwork, according to a Twitter user who was also present on the plane.
Amazing scenes. Baby born mid-air on @IndiGo6E Delhi - Bangalore flight today, helped by the airline's crew. ????????????

Future IndiGo pilot perhaps. ????#aviation #avgeek #india ✈ pic.twitter.com/0rJm7B5suQ — Tarun Shukla (@shukla_tarun) October 7, 2020
In another clip, the mother and the baby are seen being given warm welcome upon landing at the Kempegowda International Airport in Bengaluru. The airline crew and ground staff can be seen clapping and cheering while holding blue posters that read, "welcome to namma Bengaluru"  the mother is finally taken to the ambulance on a wheelchair.