Raat Akeli Hai Exposes The Under Wrap Enigma Of Indian Patriarchy| Movie Review
Raat Akeli Hai is an Indian Crime Drama Movie, released on 31st July, 2020 on an OTT platform Netflix India. The Movie unwraps the dark and mysterious secrets of the patriarchy prevailing in the Indian society, following with the prominent Star Cast Nawazuddin Siddiqui, Radhika Apte, Tighmanshu Dhulia, Swanand Kirkire, Ila Arun and others.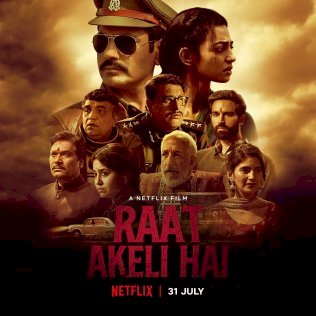 en.wikipedia.org
Honey Trehan's "Raat akeli hai" released on Netflix, starring NawazuddinSiddiqui and RadhikaApte is a "must watch" film based on the storyline. The plot of this movie varies from what Indian cinema has been showcasing till date, this movie goes beyond barriers to highlight social evils against girls prevailing in our society, with a touch of limited drama and soul-satisfying job done by the entire cast and director itself. The film and its plot are not abided by any stereotypes. This is a freshly baked cake with excellent flavors of acting, direction, projection, plot, and suspense as a cherry on top!
Nawazuddin Siddiqui and Radhika Apte, have conquered a special place in Indian cinema and the hearts of the audience. The amount of appreciation received by them from the audience for their spectacular job in the film fully justifies their comeback via "Raat Akeli Hai".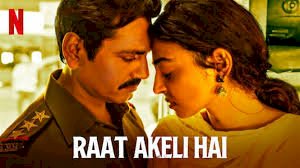 source-cinejosh.com
Apart from the star cast, the Co actors featured in this film are hand-picked among the finest ones. Their contribution in making this film a remarkable one is worth to be mentioned and appreciatedat it's extreme. The best part about this film is it's a realistic and believable plot, which is usually not provided by filmmakers in Bollywood. And this is an Upper hand for the makers and beloved audience to consider this piece of work as a "Rare and real" one indeed.
The movie is beautifully decorated with suspense, mystery, and limited drama. A simple yet significant piece of work brought to the audience by the makers of this film. The veil of suspense remains untouched until the end of this film, which has proven to be highly captivating for the audience.
The storytelling is another masterstroke by the execution team and makers, which enforces the audience to try to unveil the mystery in their minds and wonder what's next, which is a Hugh success for makers to make the audience think about suspense through their storytelling.
Above all, this movie has slightly proven to be a women-centric film in a positive manner. The movie highlights are a well known yet unspoken issue of society based on sexual abuse.
With a strong vocal this film stands against this social evil and encourages the viewers to do the same. In short, this movie is a package of every excellent element required for a movie to be appreciated and watched. It leaves a strong impact in the minds of viewers and this is a movie you do not want to miss.